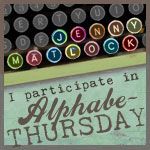 Alphabe - Thursday Letter R
R is for Reading
I was reading a lot of books (pocketbooks) and some magazines lately. I had a couple of trips to the bookstore last week to buy some and never get enough. And right this very moment, I have this urge to get dress and head on to the nearest bookstore if only I know that my husband won't have a fit if I don. LOL! One time he asked me where our bed was coz all of the new books were on it as I was counting them and putting my name and the date I bought them.
I have loved reading ever since I was little. It was our past time at home, me and my sisters. And ever since, I dreamed of having my own library someday. Right now, I only have a medium sized shelf where some of my books and magazines were displayed and the rest were in a safe box.
I wish that my daughter would learn to love books as well. That's why I started reading books to her when she was still in my womb *wink*
I also bought a book that I have not yet read because I'm waiting for my husband to read it. Safe Haven by Nicholas Sparks. Yes. He learned to read pocketbooks when we were on our 4th year of relationship (funny). He said he caught the "virus" from me. LOL!