I'm sorry. I can't help it much as I wanted to (LOL!). I love eating, but who doesn't?! Well this would be the first time that I will make a post about food. I always take a picture of where I ate and what I ordered.
This one's from Kenny Roger's. Yummy food that I craved for a week. Great timing my family went out last Monday. We're supposed to stroll in a park but the rain poured so hard that we end up malling (again).
They served a very delicious cream brulee (upper right picture) which I only have tasted at Zagu's. Of course my fave mac and cheese which I never forget to order everytime we eat at Kenny, and another side dish that really makes my day was their coleslaw. They have a variety of side dishes to choose from but these three are my favorite.
Another place I love to eat was at Italianis. I don't know yet how to describe their food in a way that will elaborate the reason why I like eating there but their food are great, their service is excellent and the place is comfy. I like the way Italianis decorate their place, it's really cozy, their wall frames matches their table setting and their mini bar. We don't always east here (because sometimes it's hard to find where they're located in some malls, LOL). Of course as fine dine in they have a variety of menus to choose. From chicken to pork and fish and grilled and fried. By the way, their mashed potato are two thumbs up.
Another place I love (sorry I don't have my own picture so I just googled it) is at World Chicken. You can choose whether you want your chicken grilled or fried, and what sauce would you like to complement your chosen chicken. For the sidings, you can choose from rice, pasta or salad. But as for me, I (always) pick grilled chicken, Fettuccine and Asian Noodle - a combination that really feeds my hunger!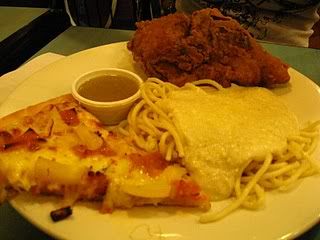 Aside from Yellow Cab delivery, I also want Chef d' Angelo (what's the connection?) (",) with their classic big bird fried chicken, pasta and pizza. You can have your pasta on white or red sauce or you can have fries instead (that I googled, again). I love pastas, all of it. My mom would always tell me that I can eat carbonara whole day without having stomach ache and I would laugh at it because it's true.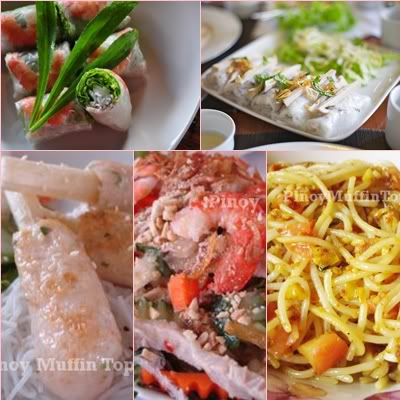 Aside from these restaurants that I have mentioned, and the ones I haven't, I always wanted to try
Bawai's Vietnamese Kitchen in Tagaytay. It's owned by a Vietnamese-Filipino who migrated in the Philippines in the early '70s. I know I won't be able to eat all their dishes because most of their dishes are with shrimp which I was allergic at (sigh). I heard (and have watched on television) that they served really good meal. Your money is worth everything you will order. The owner buys her rice wrapper straight from Vietnam as well as their other spices. This picture makes me salivate!
I hope one day I would be able to visit Bawai's in Tagaytay. and maybe after, ride a horse and stroll around the beautiful place of Tagaytay!