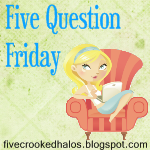 1. D
o you prefer your ice cream in a bowl or in a cone?
I prefer for my ice cream to be in a bowl :)
2.
What three things do you love the smell of?
-my husband's neck, really LOL!
3. G
iftcards
or no? (In regards to gift giving...)
Yes. But not too often especially now that I have a little me to take care of.
4. W
hat sports did you play in high school if any and do you still play them?
Volleyball. But I played the most sports when I was in college. I played table tennis, tennis, and basketball for girls.
5. Were you in band in high school? What instrument did you play?
Okay this is a little secret.. I was in a band when I was in college. I was a vocalist. I joined some friends' friends and then became my friends (LOL!) from another university. I don't tell my family coz they don't really mind it. Although I play guitar fairly well, I was assigned to be the vocalist.