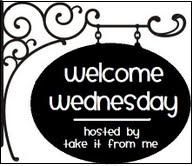 Today is Welcome Wednesday Bloghop at
Take It From Me
. You can head on her blog or you can just add your blog here.
------Blog Spotlights of The Week-----

1.)
Molly from
A Day in Mollywood
writes: "Working mama to two beautiful boys born 21 months apart. Trying to manage a busy life with two kids under the age of three while also struggling with depression. Writer. Traveler. Dreamer. Trying not to trip over tonka trucks."
&
2.)
Kelly from
Living Craftily Ever After
writes: "HI there! I am Kelly and I have a little blog called Living Craftily Ever After. There you will find everything from crafts I have been working on, some of the awesome crafts others have made, as well as a little about my family every now and then. I am a busy mom of 2 little girls, and because of them I started my journey into the craft world. I saw all these cute accessories for girls and knew I could make them myself! So I started with bows and it spiraled into so much more. I am pretty new to blogging but have loved every minute of it so far. I love all the inspiration I gather from others, and hopefully someone finds some inspiration from me!"
**Leave a comment with your blog address and we will follow you back**