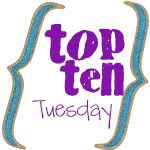 My Top Ten Favorite Songs
1. Moonriver by frank Sinatra - I know that it's kinda old but I really like this song. My mom used to sing this song that's why i learned to like it, especially when this Korean Show on tv used this song when they danced, oh it's really beautiful. And so, I used this as our first husband-wife wedding dance but unfortunately the dj wasn't able to load it after my dad and I danced.
2. Superhuman by Chris Brown - yes I know that his reputation was ruined because of what happened between him and Rhiana but I don't like him either. It's just his songs.
3. Cry by Mandy Moore - I really really like Mandy Moore, no hang ups, very simple, very talented, beautiful artist.
4. Way Back Into Love from the movie Music and Lyrics by Hugh Grant and Drew Barrymore. This is a very nice song and I like the movie as well.
5. The Man Who Can't Be Moved by The Scrip - I heard this song in Ghost Whisperer and I checked and downloaded it. A very meaningful song.
6. Same Mistake by James Blunt - no special reason, I just like the melody and the meaning of the song.
7. Without You by Charlie Wilson - very nice song, I like the meaning especially the lines 'cause my sun doesn't shine, sun doesn't shine, without you'
8. You're Beautiful (thank you!) by James Blunt - I like it, I really like the meaning, so if you're doubting about yourself, always remember that you're beautiful.
9. Sway by Bic Runga - this song was the soundtrack (I think) of American Pie 1 that I watched in college with my friend and we have no idea what this movie was all about. When we entered the movie house there are very few women watching. So we thought it might be something strong or an action pack or an adventure movie. Hahaha!
10. Someday We'll Know by Mandy Moore and New Radicals - I like it because it's an informative song and at the same time one of the soundtracks of A Walk To Remember.