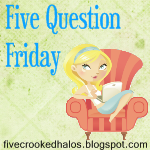 Five Question Friday was hosted by a big hearted mommy with a wonderful family from My Little Life. And this is my first time to join, although this isn't my first time to visit her blog. Honestly, I was contemplating a while ago if I will join in the fun because as you can see, I'm full on Fridays. But since I used the word fun, why deprive myself of it? LOL! Come on and join me on this at My Little Life's blog. You can click whichever buttons. They are both links. Have fun!
Questions for Friday, April 15

th
1.
What is your favorite sign of spring? another question about Spring? The season that we don't have here yet I wanted to enjoy with my little tot? (was I able to answer the question? LOL). You know, if Lord willing, even for just a vacation period, I'd like to enjoy that. I think in some malls they have a little celebration like egg hunting and egg painting, well, maybe one day when my daughter can appreciate that already. But I'm making small decorations here at home so we could enjoy it. I may not know the essence of the celebration but I like spring colors and the ambiance..
2. W
hat was your best birthday ever? my birthdays are always special in my own little way, of course I'm thankful that God has added another year in my life. But if the question the one most memorable, it will be this year because I was pregnant then with my little tot :)
3.
What is your favorite dessert? is ice cream counted? okay and moose cake as well. I don't like cake in general. But if it is a moose cake, that's mine, only mine! LOL!
4.
What is the best excuse you've ever used to get out of a ticket? I don't drive yet, but since we're talking about excuses... I remember having a terrible PMS and that's what I used for an excuse. Hmmm... lame excuse.